CLEANSE:

Offects® Hydrating Cleanser Normal to Dry skin
Hydrates and rejuvenates without disrupting the moisture barrier. Using panthenol and allantoin to soothe, repair, and restore skin, it cleans away dead skin cells and supports cellular renewal
150 ml / 5 Fl. Oz
Offects® Exfoliating Cleanser Normal to oily skin
Gently exfoliates and cleanses skin, reduces excess oil and neutralizes free radicals. Encapsulated Vitamin E provides antioxidant protection and hydration for healthy skin.
150 ml / 5 Fl. Oz.
SCRUB: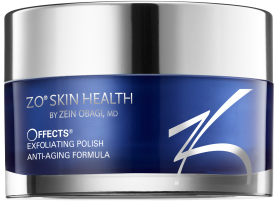 Offects® Exfoliating Polish
Ultra-fine magnesium crystals exfoliate dead skin cells and increase epidermal turnover for a cleaner, smoother, more even-toned complexion. Vitamins A, C, E and C-Ester provide antioxidant benefits to help maintain skin barrier function.
Net Wt. 85g /3 Oz.
OIL CONTROL / TONE: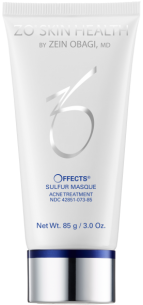 Offects® Sulfur Masque
A deep -pore, medicated cleansing masque for treating oily or acne skin. This masque absorbs surface oils, exfoliates dead skin cells and removes dirt and debris that can block pores.
85g 6Fl. Oz.
Offects® TE-Pads Acne Pore Treatment
Removes excess sebum and dead skin cells, and deep cleans congested pores using 2% salicylic acid. Botanical extracts calm and soothe irritation Recommended for prevention and treatment of oily skin and breakouts
60 Pads
STABILIZATION: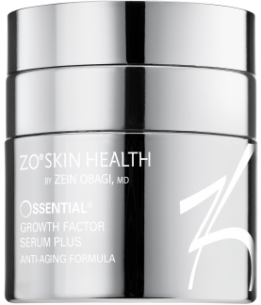 Ossential® Daily Power Defense
Highly stable retinol, antioxidants, and specialized DNA repairing enzymes work around the clock to help minimize UV oxidative damage and uneven pigmentation, while restoring skin function and elasticity.
50 ml/1.7Fl . Oz
Ossential® Growth Factor Serum Plus
A lightweight gel that strengthens skin, repairs ageing skin, and protects against future signs of ageing. For all skin types, even the most sensitive. Mild reaction.
630 ml/2Fl. Oz
Ossential® Advanced Radical Night Repair
A lightweight, high potency retinol formula that targets multiple signs of ageing skin while protecting against future skin ageing and damage. Moderate reaction.
60 ml/ 2Fl. Oz
HYDRATION & CALMING: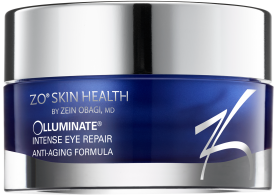 Ommerse® Renewal Créme
This functional hydrator contains encapsulated retinol, powerful antioxidants, and an anti-redness agent to calm, replenish, rejuvenate, and repair the skin's moisture barrier.
50 ml/1.7Fl . Oz
Ommerse® Overnight Recovery Créme
Calming agents help prevent irritation as retinol and other ingredients work more actively overnight to repair and regenerate skin cells to help reduce fine lines and wrinkles.
50 ml/1.7Fl . Oz
Olluminate® Intense Eye Repair
Stabilized retinol and advanced peptides aid in strengthening skin and minimizing fine lines and wrinkles. Optical diffusers highlight the eye area to reduce the appearance of dark circles.
15 ml/0.5Fl . Oz
ULTRAVIOLET LIGHT PROTECTION: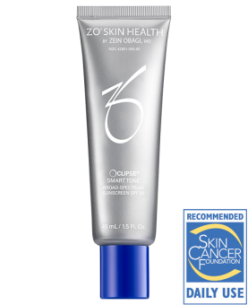 Oclipse® Sunscreen + Primer Broad-Spectrum
Using natural menlanin, titanium dioxide and zinc oxide to provide broad-specrum UVA/UVB protection. Also used to smooth and prime for a more even makeup application.
30 ml/1Fl . Oz
Oclipse® Smart Tone
A highly advanced, broad-spectrum SPF 50 sunscreen that offers a sheer tinted primer that is designed to match any skin tone.
45 ml/1.5Fl . Oz
ENHANCERS:

Oraser® Correcting Hand and Body Scrub
Retinol helps to restore and maintain a youthful appearance.Suger crystals exfoliate the skin, gently scrubbing away rough, dull skin leaving it smooth. Shea butter moisturizes, hydrates, and softens the skin to make hands look and feel younger.
170 g/6 Oz
Olluminate® Lash Enhancing Serum
A powerful blend of peptides proven to enhance eyelash thickness and length and improve the look of thinning, sparse lashes and brows.
3.6 ml/0.1Fl . Oz
Oraser® Nourishing Hand Créme
Applied daily, it helps erase the signs of ageing hands. Using powerful antioxidants, brightening and amino acid complexes, it helps minimize age sports, fine lines and wrinkles. Broad-Spectrum UVA/UVB suncreen helps prevent future damage.
100 ml/3.4Fl. Oz.
Oraser® Body Emultion Plus
Multi-action body treatment effectively delivers improvement in the quality, smoothness and overall health of the skin. Specialized enzymes and hydrators work to immediately soften and resurface rough, dry skin and can be used in combination with other treatments. Dehydrated skin deeply moisturized. Fragrance free.
240 ml/8 Oz.